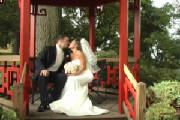 People always told us "Enjoy every minute of your wedding; because it goes so fast!" They were so right! Fortunately, we have an amazing video that captured our magical day! We couldn't be happier with our wedding video. John didn't miss a thing! We absolutely treasure our video and look forward to sharing it with our own children some day. It's an absolute must for any bride & groom.

Jill & Steve Prosdocimo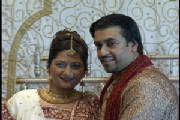 We are so thrilled to have chosen John as our wedding videographer because of how easy he was to work with and what an excellent job he did at presenting the finished product, that if we had to do it all over again, he would be our first choice! John was genuinely excited about capturing the meaningful details that make up the Hindu wedding and he was well-versed in the rituals of the wedding day. He knew where he needed to be to capture every slight moment that was so very important in making the entire day come together. In addition to being very reliable on the wedding day itself, which made the day much less stressful for us, he finished our order in a very timely manner. One of his best attributes is his creative touch in putting the footage together and creating the video to capture the highlights of the day in a way that to this day, months after the wedding day, when watching it now, it is still very emotionally moving since he captured the mood of the day so well. His video truly takes us back to that moment in time when we were united as one, and helps us relive those moments very vividly. I am grateful that I could rely on John to represent our wedding day so well, especially since his video was the only way to share this auspicious occasion with loved ones in India who could not travel to the wedding due to health. Besides attending the wedding in person, watching John's video is the next best thing. As my mom has told him, "This is the best gift anyone could have ever given me." She watches bits of the video at the end of a long and tiring day and she is elated all over again. John, we can't thank you enough for what you did for us and we are waiting for the day we can contact you about covering my brother's events!

Sapna and Jay Pithwa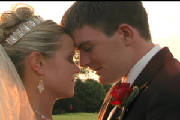 The memories that were captured by Paras Video during my daughter Megan and her husband Robert's wedding day are memories we will always cherish. Paras Video captured everything from the moment Megan was getting ready for her special day to the very last moment when Robert carried her out of the reception. John truly cares about each event he films and does an amazing job putting it all together on DVD. John has also captured my daughter Jill and her husband Adam's wedding which was also captured brilliantly and I would not have trusted such special events with anyone other than John. Paras Video does a tremendous job capturing any occasion with memories that will last a lifetime.
Ann Burnett